Meet GES2016 Delegate : Rim Siam
John Kerry: #GES2016 is about daring - it's knowing your power to change the world & leading toward prosperity, peace, progress.
Brief description of organization:
WEBB International Middle East Ltd is a business & professional Offshore Company that offers wide spectrum of Business & Consulting services for doing business between Middle East-Africa & the rest of the world.
Through her Company "WEBB Middle East", Ms.Rim Siam has created an online social business platform that brings together female entrepreneurs to form a powerful economic force for change with the vision to pool all women's companies under 1 roof and in 1 place. Her company succeeded in getting the support of UN Women & UN Global Compact for committing to respect the ten principles of the United Nations Global Compact,to take action in support of UN SDG's. WEBB Middle East put into action Principle number 5 of "Women Empowerment Principles (WEP's)" by creating The First Women's Business enterprises digital platform to implement enterprise development,supply chain and marketing practices that empower women. https://www.unglobalcompact.org/what-is-gc/participants/69421-WEBB-International-Middle-East-Ltd#company-information .
What inspired Rim to start this organization?
As an Egyptian entrepreneur for more then 22 years and a mentor, Rim realized that it wasn't all just about the achievement of her personal dreams, but also about the playing of an important role in connecting female entrepreneurs, business owners and professionals across borders specially those whom their businesses were affected by the Arab springs. A strong believer in giving back to the community, Siam has been a mentor for women entrepreneurs globally.Her vision for business was shaped by her belief in opportunity and proper work experience. She believed that women make the best entrepreneurs, so playing an important role in connecting them by using the internet as a springboard to economic participation is a great use of resources. She took action and create the first online platform"WEBB megastore" to support businesses that enhance women's marketable skills.
What is the next big step Rim hope to help her organization reach?
WEBB Middle East is creating " The First Women's Business enterprises digital market called WEBB megastore" to expand women's participation in the economy, to increase the value of women-owned businesses,and to build a rising pulse of women's empowerment across the globe. Rim is seeking full cooperation of esteemed companies and organizations in supporting her goal to Building Business and Bridging Culture and to cement her vision to increase women and youth's capacity to understand, appreciate and value their differences as well as their similarities.
WEBB will not have an online presence;It will also have offline presence in different countries. However,its power will be first gained from its websites and online community. It will have representative offices in different countries to serve in building professional & commercial bridges between women owned companies.
What has been Rim's biggest obstacle as an entrepreneur?
"How to be 'me' in a male dominated market was my biggest obstacle," she said. From the beginning, Siam showed signs of great leadership. She set out to break stereotypical assumptions about women. In her community, the participation by women in the economy was the weakest by global standards. She chose a line of business that women rarely involve themselves in — antique dealing. "To be an antique dealer wasn't easy in the beginning. I was living in a conservative society and working in a market that was male-dominated without any experience and with a little capital of my own," she recalls, " I first started working on a consignment basis. Next, I made the transition from dealer to manufacturer of detailed reproductions." In 2004, Siam entered the Gulf market with the reproduction of antiques as a new business and opened a branch of the company in the United Arab Emirates. Siam observed the interaction between different nationalities and how they worked to gain competitive advantage in today and tomorrow global market.
What advice would Rim give other emerging entrepreneurs?
Through her intense interaction with the business women communities & entities throughout the Arab region, she believes that only few from the addressed subjects and challenges are interpreted into action on ground and that a lot of practical initiatives have to be shaped to help & promote women in business. She channeled her ambition and her observations into the above professional bodies.
Rim's advice to entrepreneurs: "Be creative! Do not count what you have lost, the past never comes back but sometimes the success and the future can give you back what you have lost even more than the early losses."
Additionally, Siam has been a mentor for women entrepreneurs globally: In 2008, Rim thought of taking on a role as a mentor to empower other women and to teach them new 'skills', so she submitted the First training program for Middle Eastern women to teach sewing, arts & crafts, and carpentry. She believed that this training could give another chance to women who did not have the chance to go to school to make their future brighter. She believed that this can be a proof that Middle Eastern women can do what men do if given support, and that empowering women by teaching them new skills is the best way of fighting against gender inequality and women's dependency.
Teaching Women Carpentry Skills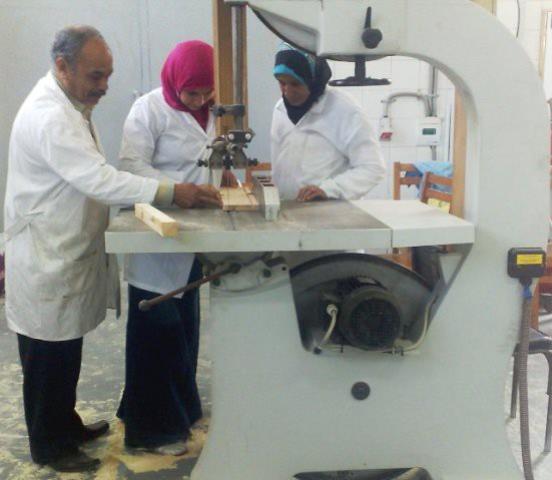 im believes that empowering women by teaching them new skills is the best way of fighting against gender inequality and women's dependency.
Women in woodworking field
Rim has won several awards and recognition for her work as businesswoman and mentor. She was the first woman in the Middle East to receive the "2009 Middle East Dynamic woman award" from hotmommasproject.com, an award-winning venture housed at the GW University School of Business DC. She also won the"2013 SENSES Arabian Entrepreneur award and in December 2014, she was selected as one of the top 25 outstanding grassroots women and visionary voices using digital tools to effect change and advance of their communities works. In February 2016, she was selected by UNIDO 1/16 women's empowerment success stories in Africa & Asia https://www.unido.org/fileadmin/user_media_upgrade/Resources/Publications/UNIDO_Women_SP.pdf.
Rim was the First women from the Middle East who received the "2009 Middle East Dynamic Woman Award"
Rim received the" 2013 SENSES Arabian Entrepreneur Award"http://www.senses.de/awards2013-dubai.html
Rim Received from the Representative of UN Global Compact in United Arab of Emirates and North Africa the certificate of joining WEBB Middle East Ltd to UN Global Compact for Putting into action principle no.5 of (WEP's ) https://www.unglobalcompact.org/what-is-gc/participants/69421-WEBB-International-Middle-East-Ltd#company-information .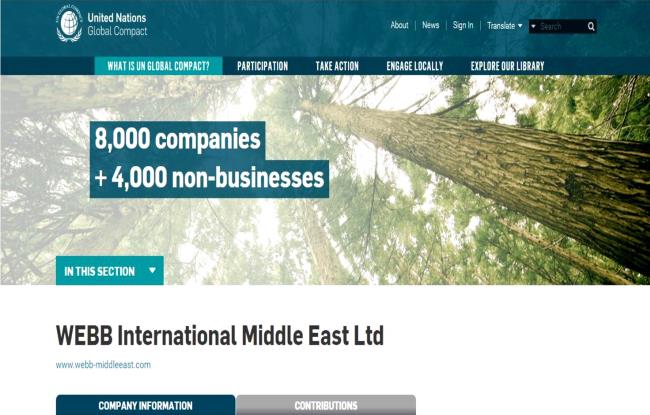 Rim received from the heads of UNIDO in Bahrain and in Vienna the first printed book for United Nations Industial Development organization (UNIDO) " Women's Economic Empowerment Success Stories" where she's one of the 16 stories selected for 2016
Rim as the president of the first Businesswomen committee in the federation of Egyptian Chambers of commerce since 1923 signed MOU with her counterpart in the United Arab of Emirates.
MOU between Business women in Chambers of commere in Egypt and Bahrain